Q. What's the nail color you always wear?
A. Most of the time, I'm wearing JINSOON 'Muse' but if I'm going for Essie, I like A LIST and Hi Maintenance mixed with Limoscene.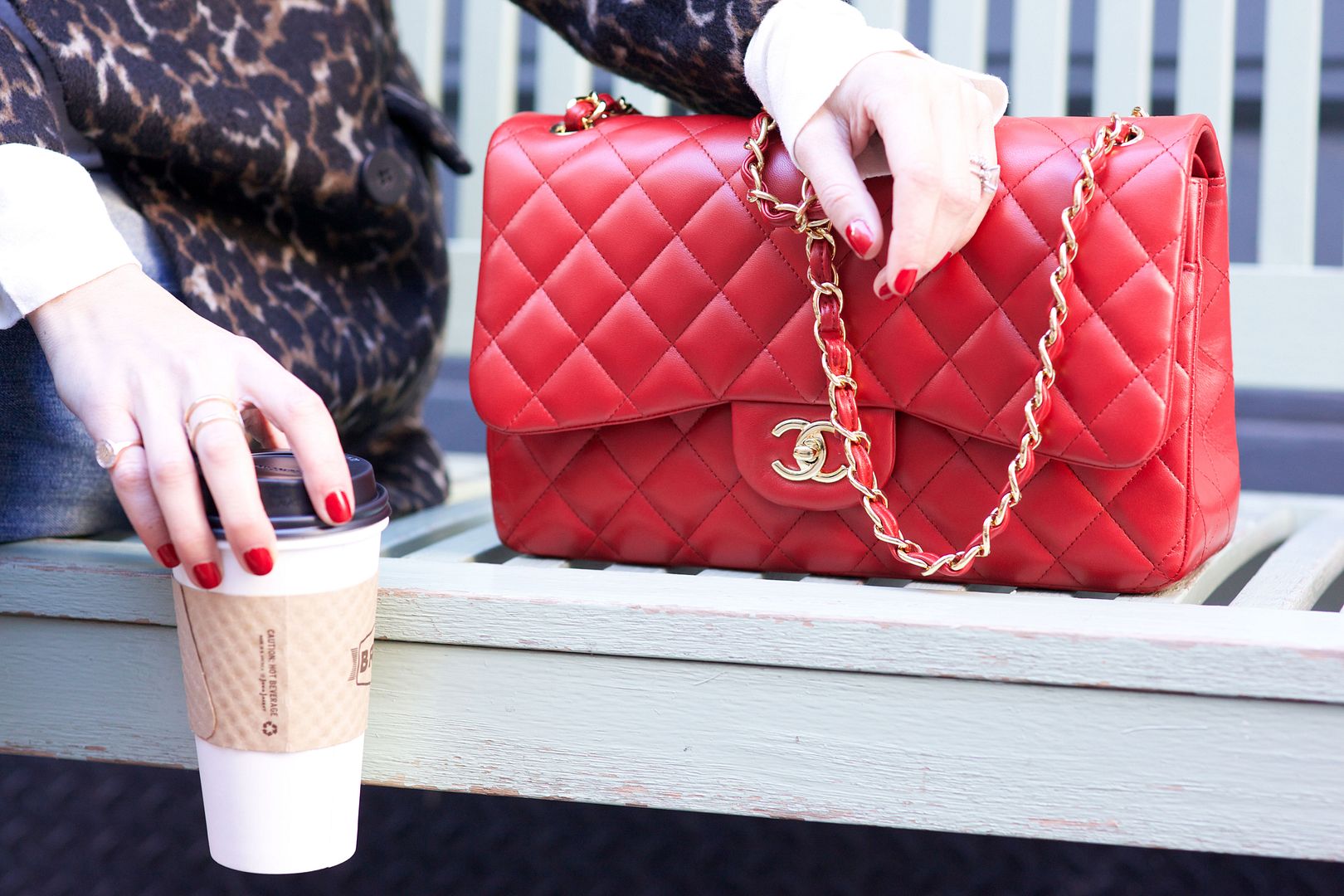 Q. Why did you switch from the Bugaboo to the Uppababy?
A. I get this question almost every day. There was actually no big reason as to why I switched. I loved my Bugaboo for when Ruby was a newborn. The stroller is amazing. I switched to an Uppababy because as a mom in New York City with a toddler, I felt that the Uppababy had better storage space for my liking. I still have my bugaboo and I will for sure use it once baby #2 comes around.
Q. Do you and Brandon ever fight? How do you two handle conflict? What's the longest you both have gone without speaking?
A. Ha, we fight all the time. But most of the fights are small stupid arguments. The last time we got into a serious fight was before we got married. I always tell girls who write me about this, before Brandon and I got married – we spent years falling in love, fighting and potentially breaking up. We eventually learned how to fight with each other – knowing when to stop, knowing when to take a step back, knowing when to shut up. A huge part of growing up is also knowing when you're wrong and vocalizing that. I always had a hard time doing that. Brandon knows what really gets me angry and so he stops way before that point now to avoid a huge fight. For me with Brandon, knowing when I'm wrong and apologizing was a huge thing I had to learn. Now our fights consist of what we are getting for dinner, whose changing Ruby's diaper and what movie should we order. It takes time.
Q. Do you plan on having more kids?
A. Another question I've been getting a lot recently. I definitely would love to have more kids. It would be a dream come true!
Q. Where is your couch from, the carpets in all of your rooms, your bed and your dining room table?
A. Ok, so my decorator is Hilary Nadelman Matt. A lot of the pieces we got were custom made. The carpet in my room, the living room and Ruby's room are all from STARK Carpet. The carpet in our playroom is from FLOR Carpeting. The Hide in our office is also from Stark Carpet. My couch and dining room table are both Custom made and my bed is from Horchow.
Q. Talk to us about your rings.
A. My Ruby ring was my push present from Brandon. It's an oval shaped ruby with pave diamonds around it. My engagement ring is an Emerald cut. I wear them both on and off and sometimes not at all because as a mom, a ring on your finger gets in the way and gets very worn out. I wear them when I can.
Q. Who are your top three style icons?
A. Mary Kate and Ashley Olsen have been my everything icons since I was 7 years old.
Q. If you weren't a blogger, what would you think you'd be doing?
A. I would probably be a psychiatrist and if not that, I would dream to have a career at NASA. I love science, I love space.
Q. Do you ever seek a therapist or psychologist to help with your anxiety?
A. No, I never have seen one. Except when I was 9 years old because I wouldn't sleep in my bed due to a fear of throwing up. Bizarre, I know. I was always kind of bizarre.
Q. Where is Ruby's neon sign above her bed from?
A. NameGlo
Q. What do you ultimately want to do in the next few years? Would you ever consider being a full time fashion designer?
A. So, this is a great question. I get it so often and I never really knew how to answer it because I'm a very go with the flow in the moment kind of girl. Since becoming a mother though – it's gotten to a point where I need to create a plan for my future and my career. I did this collaboration with Nordstrom to see if I really did understand my followers and I could provide them with things they were looking for. Because the Nordstrom collaboration was so successful it made me realize how much I love doing this and how I can really get information from you guys and bring you what you want. I would dream to do this in so many different departments. Clothing (like what I did with Nordstrom, every season would be a DREAM), shoes which I feel I can really succeed with as I love them so much and I believe I know what you guys are constantly looking for, beauty and hair, and eventually kids clothing. I may be reaching for the stars but I have to go after what makes me happy so I will try!
Q. Where is the sweater cardigan from that you posted at Zimmermann?
A. That cardigan is brand new from Philosophy.
Q.Where is the Opal Ring with the various diamond colors from?
A. Noor Fares
Q. How do you get brand collaborations and how do you make your blog successful?
A. I didn't get brand collaborations until 4 years ago. But it's a different world now, everyone is aware of the industry now. I think it's more about showing your support regardless of collaborations or not – continuously supporting their events, launches, products and building relationships. I honestly don't think I can answer how to make your blog successful. I never had a plan in my mind of making my blog successful. I was just doing it for fun and just loved what I was doing. Somehow it garnered a following and the rest is history. In order to maintain it, I just continue to try to be as much of myself as possible because that's the only thing that will separate me in this super saturated industry. I'm doing it for me and that's pretty much it. I would do it even if I didn't have collaborations or followers – it just genuinely makes me happy.
With that being said, as a new blogger trying to break into the industry, I think it's important to bring something different to the table. A different angle. Be open to being OPEN. People want the truth, they want to relate to what you're going through. Create beautiful content, I think at this point, the way to garner a following fast is having beautiful content. I don't do a great job of that because that was never my thing but if you want more followers I'd assume that would be the best way. Maybe cross promotion with other blogger friends? Tagging all the brands you're wearing for a possible repost. It's important to post every day, majority of people on Instagram follow over 600 accounts – if you want to stay relevant, post as much as possible so your name is always showing up on their feed. As I'm giving these tips, I'm thinking about how much I need to take my own advice haha.
Q. What made you decide to stay in the city and not move to the suburbs?
A. It's not a permanent decision. For now, with one child, it made sense for us. Who knows down the line, if we have more kids and are looking for my space – things may change. I would never say never! Ideally though, we would love to stay in NYC.
Q. How much money can you make being a blogger?
A. It varies. You can make as much as millions of dollars but then as much as a couple hundred per post.
Q. How did you choose Ruby's name?
A. Brandon actually chose Ruby's name. I was having such a hard time settling on something, I would change it every five seconds and drive myself crazy over it. He pitched Ruby Lou to me, he know I wanted a boyish name in there and I've always loved Lou. It worked out perfectly and we didn't decide until the end. I know it's hard but it's better to think about it towards the end because the sooner you think of it the more you will continue to change your mind.
Ok – these were the questions I was able to put together from my DM. I think it's easier to do the Q&A's on the blog so that they live here and don't expire in 24 hours! I would love to do this weekly!! If you have more questions, ask them in the comment section below and I'll answer them now while I'm here! If I don't get to them, I'll put them into next weeks Q&A. I want to be as honest as I possibly can, so don't be afraid to ask whatever you want/feel. x