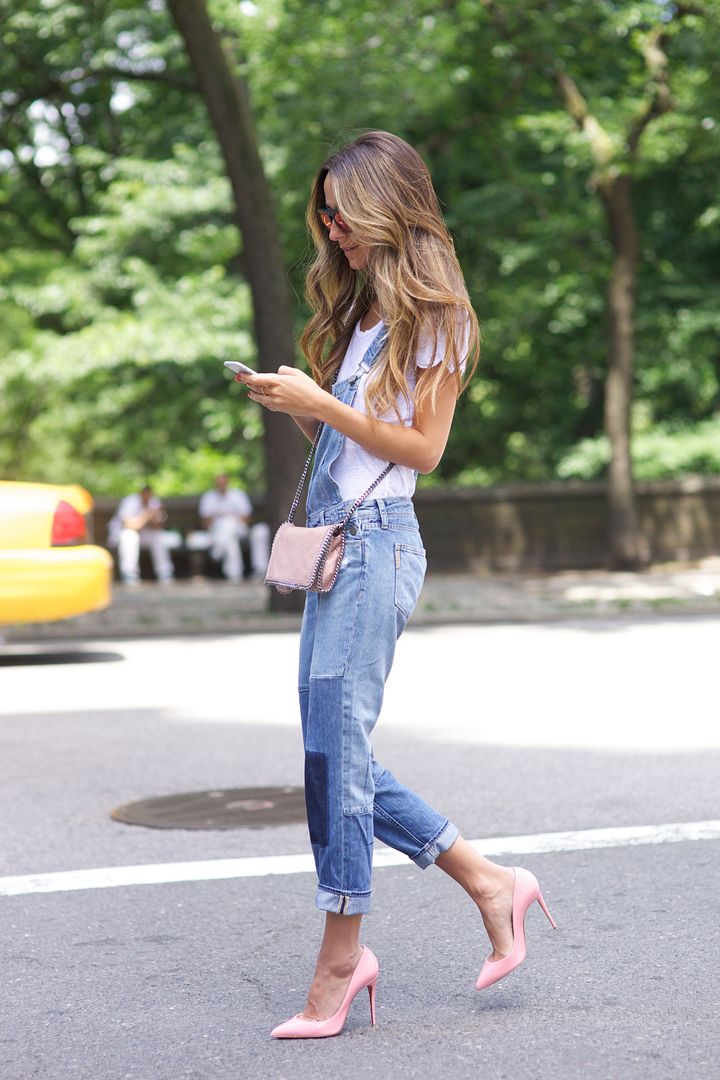 This was a personal favorite of mine because I had just bought these light pink Louboutins and I was so excited to pair them with a natural blue denim. It's so fun to see this one reposted all over Pinterest!

We loved this one because of the leaves (obviously) and how the yellow looked with the orange booties. Looking back at these pictures really make me miss my heels and my jeans. Can't wait to get back into those.

This picture got a lot of attention for some reason and we couldn't figure out why. I've decided it's because of the pop of green in the sunglasses. It definitely adds a wow factor to the simple outfit.

This one I love because it's so genuine. Alex and I laugh a lot of the time during our shoots so when she is able to capture a moment like that, it would be silly not to post.
I loved the neutral tones in this look, it's the perfect mix of casual and dressed up thanks to the shoes and the cape.

I actually think this picture is from 2014, but I love it so much I had to add it on here. The color of my sweater and the fact that I got to wear my wedding shoes just create the perfect throw back look.

Looking at these pictures really make me miss my old apartment location, the UES is so open and beautiful. This street was our favorite because of the lighting and the NYC traffic behind me.

I was freezing here but I absolutely loved this outfit. I was so excited when I got this coat from NastyGal and I envisioned it with a super white/natural look so it would be the center of the outfit. The lighting and Winter season made the whole shoot come together perfectly.

LOVE these leather pants. I can't wait to fit into them again, they were tight at my waist to begin with so it will definitely take a lot of hard work post baby to get back into these, but #goals.

I had just bought these boots, I think these are probably my most expensive shoes in my closet and even though it was painful paying for them, it is completely worth it now. I will never get rid of my knee highs because the prices for them are ludacris!

This is so sad to say but this red Celine bag is long gone. The super in my last building was a criminal and a thief and stole all of my packages (we rented from an awful landlord Steve Croman) and I swear that the criminals he hires to run his buildings sneak into the apartments when you're not home and stole your things. I haven't seen it since mid summer. I was hoping during the move I'd find it but it never showed up.

Another coat I bought from NastyGal. It's such a great site to buy affordable pieces that you don't need to keep around year after year. It's strictly trend based and I love it for a quick outfit fix.
An all white outfit is my go to during the Winter (pre pregnancy) I have no white jeans now that fit, but it's my favorite time to wear the color white. I don't drink hot coffee so whenever you see a coffee cup of mine like this, it's either hot chocolate or iced coffee in a hot coffee cup! Ha.

I was inspired by SincerelyJules for this look from what I remember. I saw a picture of her on Pinterest with a button down and a sweater thrown over paired with a skirt. I decided to put my own twist on it with knee high boots and long signature waves!

I remember when I shot this because I was going by some of my readers suggestions asking me to post some more casual day time looks that don't include heels. I don't always wear heels – I have a fun collection of sneakers mostly from Bandier.com and they are really coming in handy right now.

Love these Nikes. This is my go to casual outfit and I was a little hesitant posting it because I didn't think a lot of my followers would like it but it turned out being one of the favorites. Interesting!

Oh, the days when I used to be able to tuck in a button down into skinny jeans. Can't remember the last time I was able to do that haha. On days like today when the weather is in the 50's/60's I love going sans coat and adding a chunky scarf instead.

I got a few of these faux fur vests from Cynthia Vincent and I lived in them all year. They always would complete my look. At this point I was a little bored of continuously pairing it with skinny jeans so I went with a skirt here.

This outfit was inspired by my photographer. I never was a into the whole flannel tied around the waist but it was fun testing it out for one of our outfit shoots.

I was SO excited about this outfit because I just bought these shoes and they were the first pair of Louboutins I bought that weren't the typical pumps. They were so different and the heel was the perfect height – I couldn't wait to shoot them.

I was FROZEN here! I wanted to try out the tight mini dress with knee high boots but styling it in a classier way. This outfit could go so wrong but I think I did a pretty good job at making it appropriate.

I don't promote fur to my readers by any means but I do own fur myself. It's a very sensitive topic and I apologize to anyone that it offends. Most of my fur is passed down from my great grandmother and they are very special pieces.

This outfit was shot right after Anguilla with Brandon. That's why I have a little bit of a tan. I shot this in March of 2015 and this March 2016 I will have my baby girl!

Also right after Anguilla. I took the opportunity to wear a skirt because of my tan legs. That took a lot of courage due to the fact that it was probably around 20 degrees outside.

This outfit was inspired by Miranda Kerr. I saw a photo of her on Pinterest in an all black ensemble with pop of red pumps – I looooved it so I tried to recreate it on my own.

A little premature excitement here that Spring is around the corner. I was really into the sweater over button down look. If I did that now, I'd look like a giant balloon. Soon enough!

This was a fun shoot because we were taking pictures outside of the all girls school Hewitt and a lot of the girls were fans of the blog! It was funny.

This was after a week of being really unmotivated. The weather was still blah and I had no clue what to put on. I've realized that whenever you feel that way, flowers always help!

This outfit was inspired by my photographer again! At first I was doing an all white outfit but she suggested adding a pop of red and I think it really made the outfit!

Again with the laughing, they are my moms favorites so it's nice to just throw them in there. Weather was really changing here and we were on cloud nine. You have no idea how much that effects our photos!

This was actually a head to toe AYR outfit (not my shoes or bag) but everything else is by AYR. They are one of my favorites, their fits and pieces are so cool and classic.

I am a big fan of Zimmerman and this is one of my tops by them. Now that I'm seeing it, I'm realizing it will probably work during pregnancy. I bought my first pair of real leather pants that week (Rag&Bone) and was excited to pair them together.

First CHANEL bag I've ever bought. Any CHANEL bag I owned before this one was passed down from my mom. Even though it's not liked by everyone, it's so special to me and one of my favorite items in my closet.

Flat stomach days! This was right before the Summer. I ordered this top by Stone Fox Bride and originally wanted to pair it with high waisted skinnies until I came across these white trousers.

I fell in love with REDONE jeans on a trip to Barneys. I bought two pairs and then got pregnant. Can't wait to fit back into these. This was one of my favorite outfits I've ever shot, ever.

2015 for me was my discovery of Red. I was never a fan of red until I bought this romper. After this, I bought too many pieces to admit in this color. I thought of changing the blog to SomethingRed.

This shirt was a big hit in the fashion community this Summer. The off the shoulder TIBI top. It's so flattering for every body type.

I was pregnant here! Craziness, I was maybe 5 weeks pregnant and I still had beach hair. I got a lot of sh*t for my hair on my Instagram saying that it was dried out and not cute but I actually liked having it natural. I was giving it a break.

I was pregnant here too but couldn't announce to you guys yet, I was so excited and also surprised how little your body changes in the beginning. No one would have known!

I think Alex and I saw a really cool shot of ripped boyfriend jeans and these Valentino pumps and we wanted to recreate the look. I added an oversized white button down (hiding pregnancy) and a cool statement necklace.

Little did you guys know, my pants weren't able to button underneath this sweater haha. This is one of my favorite color combos and the lighting really made it perfection.

Bought this Isabel Marant sweater before I knew I was pregnant so when I found out I figured only way I'd be able to wear it would be right away (summer or not) so I paired it with boyfriend jeans and matched my classic red pumps to it.

Trying to fit in some last wears of my REDONE Levi's before I wouldn't be able to button them again. A cropped sweatshirt and my photographers Iced Coffee kept the secret safe.

Love this grey AYR coat. I was so excited to pair it with my matching grey Valentino rockstuds. This is one of my last shots uptown.

First outfit shot down in my new neighborhood! (TriBeCa). Love this Merlot color for the season and beyond excited about these knew pair of Stuart Weitzman over the knee boots.

Before all the leaves fell from the trees we were able to capture this beautiful back drop for my outfit. Best maternity jeans I've owned up until now. Citizens of Humanity really make the perfect pair.

Having a red moment again, I absolutely fell in love with this Rag&Bone coat. It's so gorgeous and it worked perfectly with my printed black and white Louboutin pumps.

Having a hard time wearing my heels but glad I got this outfit in before the snow comes. These shoes are so classic and gorgeous and I absolutely love how they look with a fitted skinny jean.

Even though I knew I couldn't wear my heels anymore, I came across this color and could not pass it up. I saw on all the department store websites that they had the So Kate version in 120 mm but I knew that even post baby I will never be able to walk in those. I found the Pigalles 100mm on the Christian Louboutin website.

Full blown pregnancy look. These JOIE over the knee black boots have been great this season. They aren't too high and are pretty comfortable to walk in. This has been my go to outfit as it's much more comfortable for me than wearing pants.

I've had this cape for years (since college days)! It was my first vintage piece I've ever bought. I was with my sister one weekend home from school and she took me to a hole in the wall vintage shop and I snagged this. I'll never give it away.

Last but not least, shot this with Alex a week ago and I know it's a photo I'll have forever. Even though I only have 11 weeks left of pregnancy, I know my life is about to completely change in 2016 and having an image like this to look back on will be so special. I can't wait for what is to come and I want to thank you all so much for following my journey – it's so much fun sharing it with you. As we say bye to a wonderful 2015, let's look forward to what is in store for 2016! Merry Christmas and happy New year to all of you and I'll see you back here next year! I'm off to Puerto Rico!